Cartier's "Time Unlimited" Exhibition Honors a Hundred Years of Watchmaking Legacy, Creativity, and Mastery
Journey through the eras of Cartier's horological history at their new exhibition, Time Unlimited. Hosted at Pacific Place in Admiralty, this immersive event honors the brand's hundred-year commitment to timepiece creation. Brimming with iconic Cartier colour and design elements, visitors are treated to an explorative path through four interconnected rooms, each culminating in a large, welcoming core area that details the luxury brand's prowess in watchmaking. Time Unlimited features dynamic displays of over a hundred watches, and also offers a chance to see coveted pieces from the Cartier Collection and the Cartier Tradition series for sale, along with the latest models.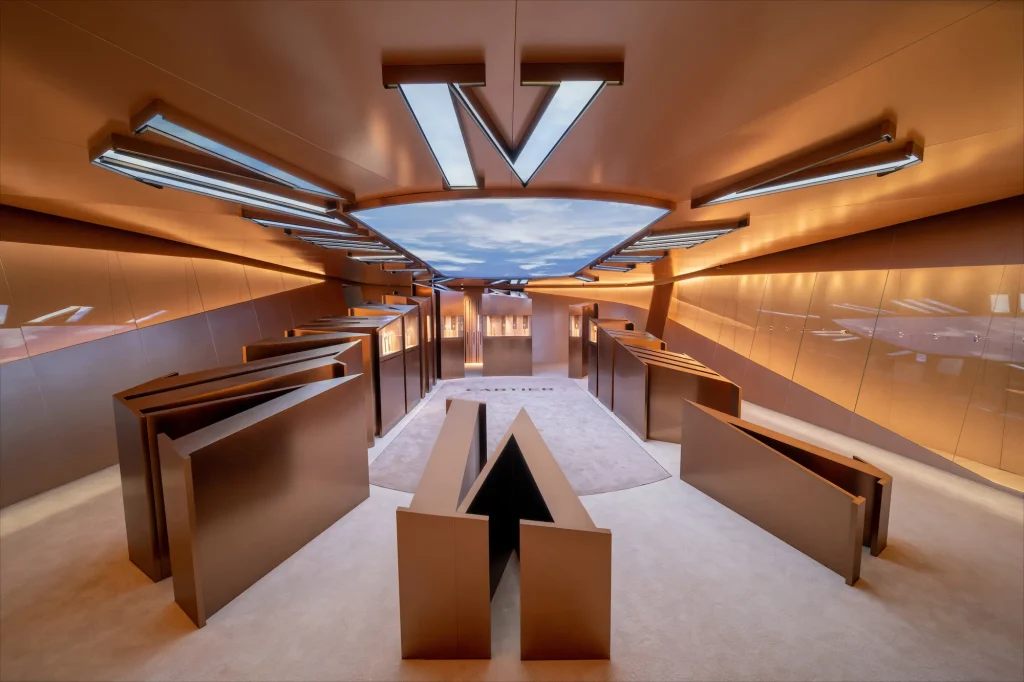 Art of Shapes
The journey begins in a room accessible via a revolving door that portrays Cartier's command over shapes in watchmaking. This is reflected in a range of timepieces with diverse outlines. Five notable examples include the square Santos watch; the nearly rectangular Tank watch; the oval Baignoire; the Tortue watch with its tortoisell-inspired casing; and the avant-garde, uneven oval Crash watch.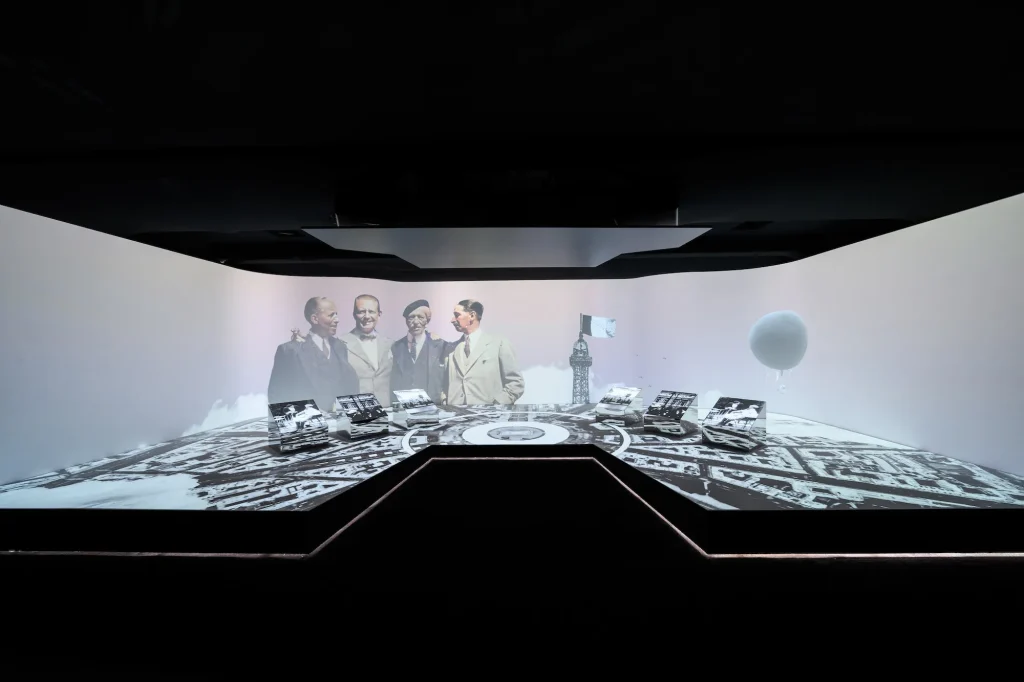 Innovative Heritage
The next room delves into Cartier's history in watchmaking, starting from the early 1900s. An engaging montage of historical pictures and animations explain the genesis of the Santos watch, the ingenious creation of Louis Cartier and his friend, pioneer aviator and inventor Alberto Santos-Dumont.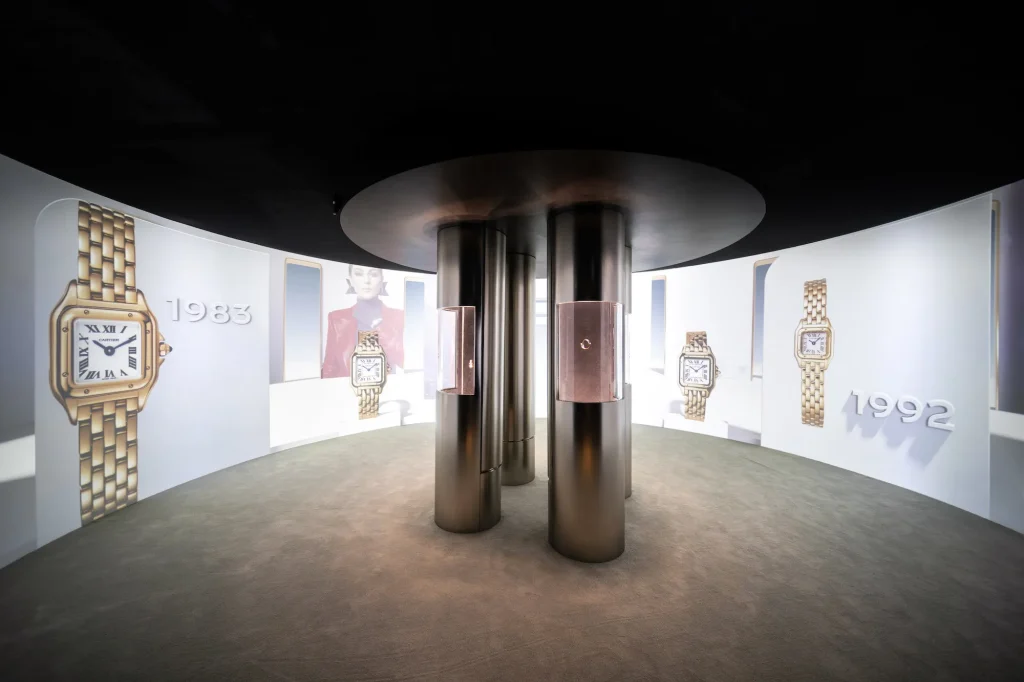 Design Culture
The third room displays four iconic timepieces – Santos, Tank, Panthère, and Ballon Bleu, representing the essence of Cartier's design philosophy. These watches emphasize precision in proportions and detail, showcasing Cartier's strong design culture.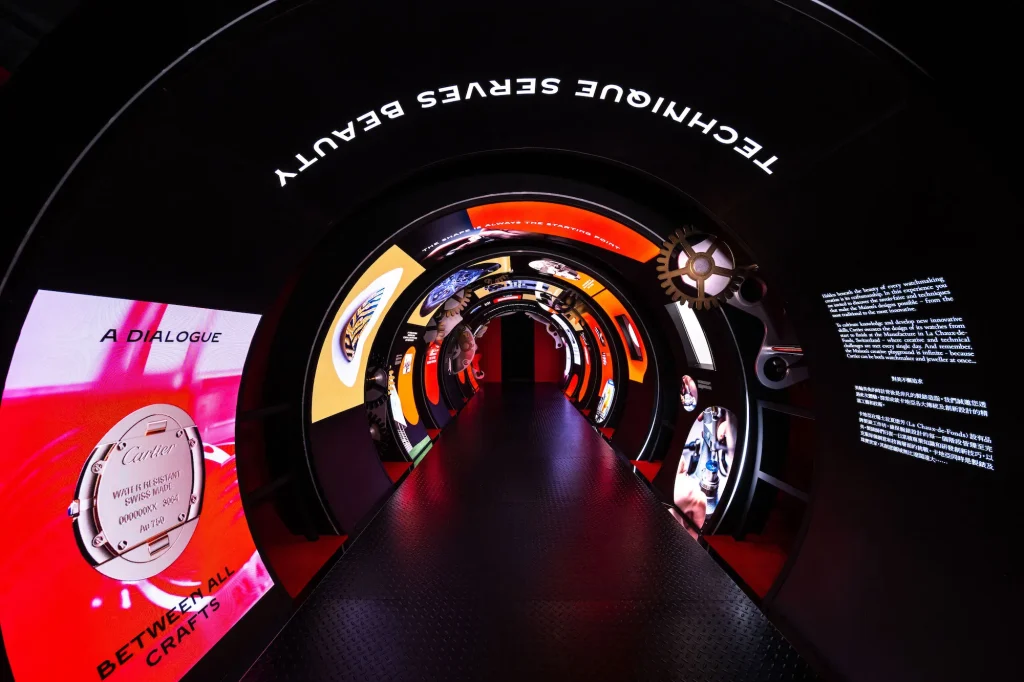 Beauty Through Technique
In the fourth and last room, visitors are taken through a time tunnel that underlines Cartier's unwavering dedication to beauty. The captivating black-and-red corridor, equipped with video screens, narrates tales from the La Chaux-de-Fonds manufacture and the Maison des Métiers d'Art in Switzerland, providing visitors with a deeper understanding of Cartier's artisanal expertise.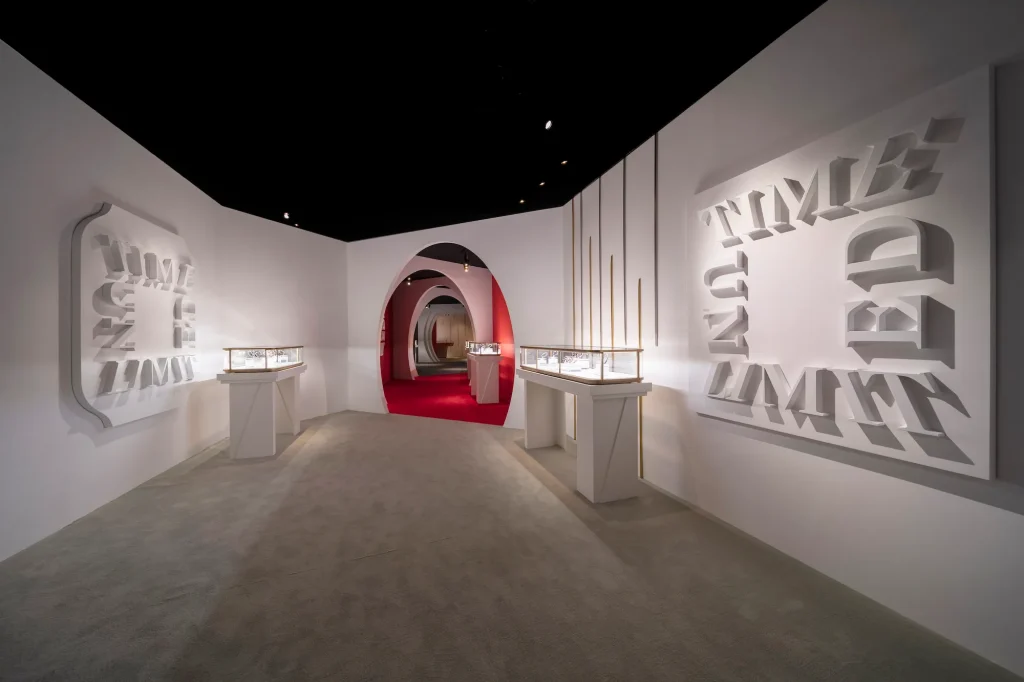 Experiencing and Engaging
The epicenter of the Time Unlimited exhibition is a central space that allows visitors to interact with and even wear Cartier's modern models. Photo and video booths further animate the watchmaking experience, while a virtual reality tour of the Cartier manufacture in Switzerland is also offered. Additionally, a personalisation station dedicated to the Santos watch offers a variety of colourful straps and an engraving service.